London 2012: Olympic legacy football project in Ipswich cuts anti-social behaviour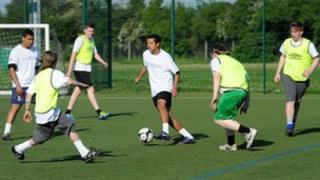 An Olympics legacy football project has been credited with cutting anti-social behaviour by 16% in part of Ipswich.
Sport England has named the Twilight Football scheme at Whitton and Chantry sports centres as the best project in the East of England.
It provides football sessions for 14-19 year olds on Friday evenings.
James Payne, from Suffolk FA, said: "It has given them something to do at a time where they most lacked some kind of structured activity."
The project was awarded £800 by Sport England to run the sessions for a six week period as part of its Sportivate Olympics legacy programme.
Mr Payne said: "The teenagers said they would hang around Whitton and Chantry sports centres because they were bored and regular users became a bit intimidated.
Communication barriers
"Twilight Football keeps them out of trouble, it's healthy and it enhances the community."
Ben Jackson, from Suffolk Sport, which distributed the funding, said: "After a little bit of a slow start over the six weeks of the project in 2011, 90 people signed up and over 20-30 regularly attend both sessions, which are continuing."
Suffolk Police said anti-social behaviour decreased by 16% around Whitton since the project started, but figures were not available for Chantry.
Mark Page, a police community support officer for Whitton, said: "It is an excellent opportunity to engage with them and break down communication barriers as they get to see police in a new light.
"In the future it is hoped that this project will extend across all of Ipswich."
The Suffolk FA said the project at the two sports centres was continuing and it would start at the Gainsborough Sports Centre from Friday.
The Twilight Football project has been invited to the Houses of Parliament in June to find out if it has won a national Sportivate award.