90,000 people expected at Suffolk Show, says organiser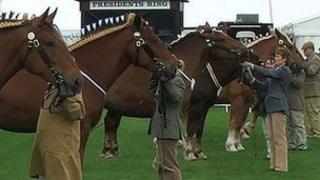 Up to 90,000 people are expected to attend the 181st Suffolk Show on Thursday and Friday, says organiser the Suffolk Agricultural Association (SAA).
The event, held at Trinity Park in Ipswich, showcases livestock and produce from around the county.
Chris Bushby, executive director of SAA, is hoping for some sunshine, as he said two days of rain could see about 10,000 fewer people attend.
"That could cost the association around £250,000," he said.
Mr Bushby said the Queen's Diamond Jubilee and the Olympics would be recurring themes at this year's show.
"The sports village is majoring on the Olympics," he said. "There's a special feature called In the Zone, which is being put on by the Wellcome Trust.
"It will allow people to test themselves against Olympic athletes and learn about their bodies, and how they work."
Dogs are, for the second year, banned from the showground.
David Nunn, director of the show, said it was protecting the welfare of the animals.
"Last year was the first year we didn't have to break into a car to take dogs out of the car park," he said.
"It will always be a discussion that people will have, but I believe the decision was right."
Heavy traffic is expected throughout both days. Up to date information can be found on BBC travel news .