Lily Webster died in PE lesson of sudden adult death syndrome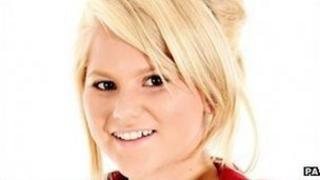 A 15-year-old girl died of sudden adult death syndrome during a school PE lesson, an inquest has heard.
Lily Webster, a pupil at Stowmarket High School, had been using a trampoline at Mid Suffolk Leisure centre just before she died in January.
An inquest at the Active Business Centre in Bury St Edmunds heard Lily collapsed after her heart failed.
She was confirmed dead at the scene by paramedics.
A post-mortem examination had failed to find the cause of death.
The inquest heard Lily had seen a GP about feelings of tiredness.
She had been diagnosed with an iron deficiency but had shown signs of improvement following treatment.
Returning the verdict of sudden adult death syndrome, coroner Peter Dean said: "Her classmates saw her do some somersaults successfully but she then stopped.
"She put her hands to her head and said 'oh my God'."
The inquest was told about 500 people in England die each year from sudden adult death syndrome, an unpredictable attack in people whose heart is structurally normal.
"Our thoughts are very much with Lily's friends, family and all those close to her," said Mr Dean.
"I get the sense that she was highly regarded by all who knew her. This was a tragic loss."