Eastern Angles's 30th anniversary with Margaret Catchpole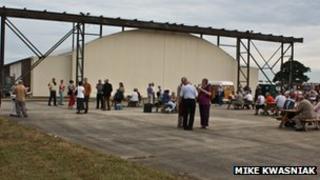 The Eastern Angles regional touring theatre company is celebrating its 30th anniversary by restaging one of its historical plays.
Margaret Catchpole about a horse thief who was transported to Australia.
It will be performed in an aircraft hangar at the former Bentwaters air base in Suffolk, from 21 June to 8 July.
Ivan Cutting, the company's artistic director, said: "These productions can be place-specific and a sense of place is very important to what we do."
The company was founded in 1982 and its first community production which toured village halls was Marsh Fever, which was about the East Anglian "ghost dog" Black Shuck.
Funding reprieve
Mr Cutting said: "We were five actors who realised there were regional theatre companies being set up to take shows to village halls exploring regional issues and East Anglia didn't have one."
The company is based at the Sir John Mills Theatre in Ipswich and its larger touring productions visit village halls and theatres across Cambridgeshire, Essex, Norfolk, Suffolk, Bedfordshire, Hertfordshire and Northamptonshire and sometimes productions go to the Edinburgh Fringe Festival and London.
Impressionist Alistair McGowan is probably the most famous actor to tread the Eastern Angles boards - he appeared in a 1990 production called Goodbye America.
Eastern Angles has also been running Platform Peterborough since 2009 which aims to create community plays specific to the city.
The company, which has a turnover of £600,000 a year, had a funding scare in 2008 when the Arts Council threatened to withdraw its grant.
However, it had a reprieve and the funding body is contributing £230,000 a year until 2015.
'Admired by everyone'
Helen Lax, regional director for the Arts Council, said "Eastern Angles' 30th anniversary provides an excellent opportunity to celebrate the great contribution this company has made to making theatre with, and for, communities.
"Creating unique stories of places and individuals, the company is a treasured feature in rural venues as well as with new audiences in the heart of Peterborough.
"Their work supporting new writers and directors and developing site-specific work is admired by everyone."
Margaret Catchpole is set in Suffolk in the 19th Century and was originally produced to coincide with the Sydney 2000 Olympics.
Mr Cutting said: "Margaret Catchpole is one of the great stories of Suffolk and it kind of chimed with the Olympics.
"With the opportunity of going back to the Hush House we were able to give it more space and let it breathe again.
"You know that your reputation only rests on the last thing you did and you're constantly worrying about what you're doing in the next couple of years.
"It's an odd feeling really."