MPs call for government to wipe Ipswich Hospital debt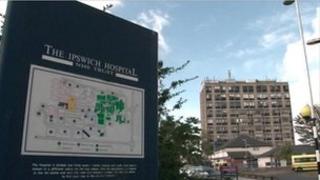 Ipswich Hospital's debt should be wiped to give it a clean slate, five Suffolk MPs who are meeting with the health secretary in London have said.
Ben Gummer, Therese Coffey, Tim Yeo, David Ruffley and Daniel Poulter will ask Andrew Lansley to write off £3.6m owed by the NHS hospital.
Ipswich MP Mr Gummer said: "There's new management which is being punished for the sins of previous managers."
The hospital declined to comment on the matter.
Nigel Beverley is in temporary charge of the hospital after Andrew Reed stepped down as chief executive in May.
'Bit of leeway'
Mr Gummer said Mr Reed had helped cut the debts from £16.8m but hoped the government would help with the remainder.
"What we're saying to the health secretary is we need a bit of leeway here," he said.
"It's a government accounting fix, because the debt is owed to no one other than the Treasury.
"What the hospital needs to show is that every year it can maintain a surplus, it won't need help from the primary care trust and it can stand on its own feet.
"When it does that it is going to proceed towards foundation trust status.
"What we're saying is when that happens we need to make sure it goes in with a clean balance sheet and it doesn't go in with this historic debt which is accumulated by others."