Part of Bury St Edmunds Cupola House pulled down after fire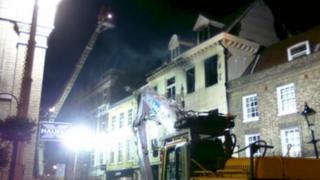 Part of a fire-damaged 17th Century building has been pulled down by structural engineers.
The Grade I-listed Cupola House, in Bury St Edmunds, suffered extensive damage after a blaze started in a cellar on Saturday night.
A crane was used to remove part of the building's facade on Monday night as efforts continued to douse "deep-seated fires".
Suffolk county councillor Colin Spence said the building remained "unstable".
Fires within the rubble of the building are expected to burn for several more days.
Around 120 people inside the Strada were led to safety before crews arrived. No one was injured.
The five-storey building, used as a Strada Italian restaurant, was constructed in 1693 and it took its name from the cupola on its roof, which has been destroyed.
It was removed from English Heritage's Buildings At Risk list in 2003 after a restoration project.