Too many unanswered questions about Martlesham deaths, says coroner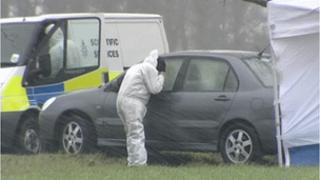 A coroner has said there were too many "unanswered questions" over how a man and woman whose bodies were found in a Suffolk lay-by died.
Dr Peter Dean recorded an open verdict into the deaths of Davina Hamilton, 42, and John Parsons, 46, who were found near a car in Martlesham in December.
He said it looked like they could have formed a suicide pact but he could not be sure "beyond all reasonable doubt".
A pathologist's report found they had died of alcohol and drug intoxication.
Both were from the Ipswich area.
The inquest at Ip-City in Ipswich heard that six whole white tablets were found in Mr Parsons' stomach, with nine in Ms Hamilton's stomach, while fragments of other tablets were present in both.
A hosepipe had been attached to the exhaust of Mr Parsons' car but had not been placed inside the vehicle.
Dr Dean said he understood the families' concerns that the events "don't make sense".
Mr Parsons was found to be twice over the legal drink-drive limit, while Ms Hamilton was below the limit.
The pair had been in a troubled relationship and had split shortly before they died, the inquest heard.
Dr Dean said the evidence suggested it could "certainly be a joint suicide pact", but that the details of the case were "genuinely very unusual".