Bury St Edmunds Cupola House fire - shops still closed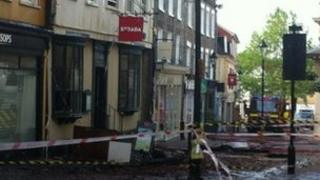 Five neighbouring businesses and shops are still closed a week after The Cupola House fire in Bury St Edmunds.
Engineers have been clearing rubble and putting scaffolding around the 17th Century building, which was used as a Strada restaurant.
Skinner Street behind the town centre restaurant is also still closed.
Alex Wilson, community director at St Edmundsbury Borough Council, said: "I think we're talking weeks before the building is made safe and secure."
When the fire of Saturday, 16 June was at its peak, 26 neighbouring businesses were forced to shut.
The Nationwide Building Society, which backs on to Skinner Street, is the last business on the Buttermarket to remain closed.
Smoke damage
Jessops, Sahara, Bella Lingerie and Scarlet, which are all next to Strada on The Traverse, also remain shut.
The lingerie shop, which is three doors away from Strada, estimates it has lost £10,000 of stock due to smoke damage and will meet its insurance company later this week.
Teresa Martin, co-owner, said: "We've been kept up to date every day by the council and they've said we will be offered another shop in town while we re-decorate.
"We were really pleased with the way local businesses have pulled together."
Fire crews have left The Cupola House and the building has been left to the engineers who will continue to dismantle the building while trying to preserve as much of the facade as possible.
Meanwhile, the council is asking people to contribute their memories and stories about The Cupola House, using whiteboards at the Tourist Information Centre and Moyse's Hall Museum, or by post to the council offices.