Morlings music shop shuts in Lowestoft after 120 years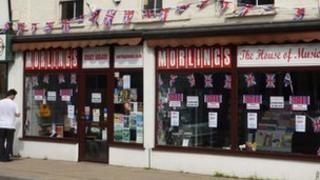 One of the oldest shops in Lowestoft is closing after 120 years in business.
Morlings music store, which has served everyone from Benjamin Britten to The Darkness, has gone into voluntary liquidation, blaming the cost of its final salary pension scheme.
Chairman Richard Morling said: "Sales generally suffered and people were buying from the internet, but there is room for musical instrument shops.
"I'm confident someone else can open one in Lowestoft."
Morlings said a month ago a report into their pension scheme showed it had a shortfall of about £500,000.
"It said we needed a considerable amount of money to top-up this scheme which was impossible," said Mr Morling, 75.
"We've had so many expressions of sympathy - 'We thought you were an institution and you'd be there forever' - but the problem is you're not there forever and you never can tell."
Two full-time and one part-time member of staff will open the doors for the last time on Saturday.
Richard Morling's grandfather Ernest opened the first store on Old Nelson Street in 1892.
It moved to London Road North in 1903 and moved along the same road in 1907 before its final move to London Road South in 2005.
The composer Benjamin Britten, who was born in Lowestoft, used to practise piano and listen to records in the shop in the 1930s.
More recently, local musicians The Darkness and L'il Chris bought guitars there.
The shop was bombed twice in World War II with the second hit in January 1942 killing Ernest Morling, three members of staff and three customers.
The store was again rebuilt in 1984 after a fire destroyed most of the stock.