Ex Suffolk priest Haley Dossor accused of child sex offences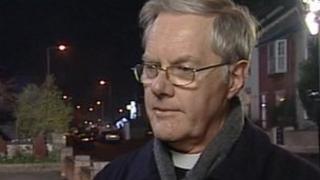 A retired Suffolk priest has been accused of sex offences against children and adults between 1990 and 2004.
Haley Dossor, 71, from Kirton, near Felixstowe, is charged with six counts of indecent assault on a child and five counts of indecent assault on an adult.
He is also accused of sexually assaulting an adult and three counts of gross indecency with a child.
Mr Dossor is due before Ipswich magistrates on 9 July.
He retired as priest-in-charge of St Mary at the Elms, in Ipswich, in November 2006.
John Howard, spokesman for the St Edmundsbury and Ipswich Diocese, confirmed Mr Dossor was charged on 14 June.
He said: "Haley Dossor currently has no active role within the diocese as a retired clergyman, and we will await the outcome of the court proceedings before making any further comment."