Flightless rhea bird on loose in Suffolk for five weeks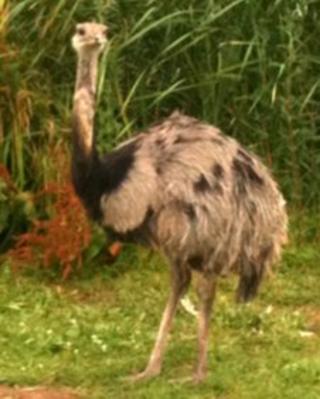 A 6ft (1.8m) tall, flightless bird has been recaptured after being loose in Suffolk for five weeks.
The greater rhea, which is called Vinnie and is a pet, escaped from a field in Little Blakenham near Ipswich.
His owner Craig Robinson had been trying to recapture him, but the bird was finally rugby-tackled and caught by a man in Bramford.
Mr Robinson said: "I'm delighted because I didn't think we'd get him until after the harvest."
The rhea, which originates from South America, can run at speeds of up to 50mph (80km/h).
Mr Robinson said it was the first time the three-year-old bird has leapt over the 4ft 6in (1.37m) electrified fence which surrounds the field he shares with a female rhea called Angelina.
'Run for miles'
Mr Robinson said: "Although they are huge birds, they can lay very flat and blend in in any type of crop or grass.
"We've had lots of help trying to catch him, but we soon realised chasing him was never going to be a solution because he can run for miles."
They tried leaving him sedated feed and using recordings of rhea calls to try and catch him, but they did not want to use a dart gun because similar birds have died using that method.
Vinnie was finally caught late on Monday evening by Ben Curtis near his home in Bramford.
He carried the 80lb (36kg) bird home and kept him in his shed until the owner collected him.
Mr Curtis said: "I was amazed at how calm he was once I held him tight, but once he was in the shed he went absolutely spare.
"I'm actually quite sore and I've got a few bruises where I hadn't realised he'd kicked me."
Mr Robinson said: "He's got a few ruffled feathers but otherwise he's fine and settled down.
"We're going to double-fence the field now."