Eddie Maher: £1m Felixstowe bank theft accused in court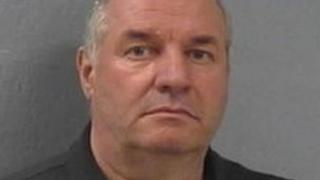 A former security guard who was deported from the United States has appeared in court in Suffolk charged with stealing £1m.
Eddie Maher, 57, originally from Essex, was flown back to the UK overnight.
He has been charged with the theft of £1,172,500 from a security van in Felixstowe in January 1993.
Mr Maher, who was arrested in Ozark, Missouri, did not enter a plea during the hearing before magistrates in Ipswich and was remanded in custody.
The case was adjourned until 17 July.
It is understood Mr Maher landed at Heathrow Airport in the early hours before being escorted back to Suffolk by police.
False number plates
Mr Maher, who was working for a cable company in Ozark, was arrested on a separate matter in February and accused of immigration and firearms offences in the US.
Police said Mr Maher was "circulated as wanted" in connection with the theft of the security van from outside Lloyds Bank in Hamilton Road, Felixstowe, on 22 January 1993.
The Securicor van was found empty on Felixstowe seafront.
Police believed 50 bags containing £1m in coins, £20 notes and £10 notes, had been transferred into a stolen Toyota Previa Space Cruiser fitted with false number plates.
It is thought the Toyota was then driven to a car park on the nearby Landguard peninsula.
The money was then thought to have been transferred into a car later found burnt-out in Essex.