Eye Show & Country Fair called off for 2012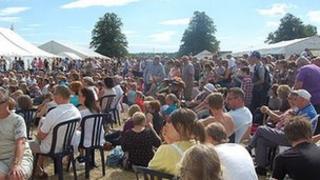 A popular Suffolk country show which has run for almost 100 years will not take place this summer.
Organisers of the Eye Show & Country Fair, which began in 1915, said the economic climate and a busy calendar of other events were behind the decision.
Tim Seeley, director of the show at Goodrich Park in Palgrave, said the event would return on 25 and 26 August next year.
Organisers said about 30,000 people usually attend the show.
The event began with exhibitors showing off local produce but since 1963 has featured a wide range of entertainment and displays.
It has been held at Goodrich Park since 2006 and normally takes place on the August Bank Holiday weekend.
The Harvest at Jimmy's festival in Ipswich was cancelled this year for similar reasons, and the Ipswich Mela and Suffolk Show were called off due to adverse weather.