Bury St Edmunds Cupola House fire affects shops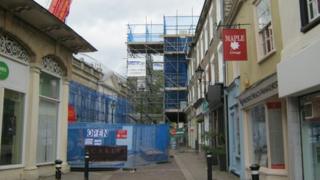 Shopkeepers in Bury St Edmunds say footfall has slumped following a fire at a restaurant last month.
The fire gutted the listed building, used as a Strada restaurant, on 16 June. Scaffolding and a crane are blocking off The Traverse as work is carried out.
Scarlet, which is next to the scaffolding, said it had seen a 90% reduction in customers.
St Edmundsbury Borough Council said it hoped the crane would leave next week.
Three shops - Jessops, Sahara and Bella Lingerie - remain closed after the fire, which severely damaged the Cupola House building which housed Strada.
Kate Palliser, owner of Scarlet, which was closed for six days, said: "We're down by 90% in footfall because people come over, look at the crane and turn round again.
'Dwindling' customers
"We are covered to a degree by insurance for lost sales, but we're hoping more of The Traverse will be open by the end of next week."
Butterworths Health Food shop was closed for two days following the fire and the owners said trade was down by 30%.
Trevor Barrett, owner of Butterworths, said: "There's been a gradual dwindling of customers, because it looks as if everything is closed off, despite our signs to say we're open.
"At the moment we're relying on a core of loyal customers, but we're not getting any new customers, and that's not good for the future."
The council said shops can apply for suspension of business rates if trade has been affected by the fire.
The local authority said the crane should be able to leave early next week and more pedestrian access will be available to shops on The Traverse.
English Heritage is working with the owners of the damaged timber-framed building to restore as much of it as possible.