River Orwell oil slick causes cygnet's death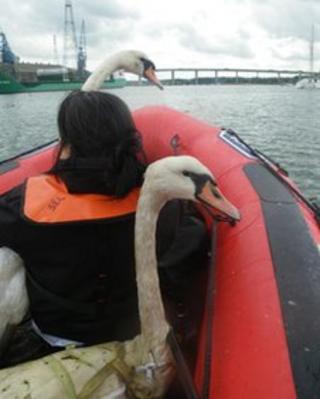 A cygnet has died two days after it was rescued from an oil slick on a Suffolk river along with 10 other birds.
The RSPCA was called to the River Orwell in Ipswich on Tuesday after receiving reports of a suspected oil slick close to the Orwell Bridge.
The two-person crew managed to rescue the birds, which included a male and female and their four cygnets, but one of the cygnets has since died.
The RSPCA's Jason Finch said it was not clear what the source of the leak was.
He said it took about four hours to remove the birds, which were then taken to the RSPCA East Winch Wildlife Centre in Norfolk.
They were given fluids and charcoal to absorb the oil.
A spokesperson for the RSPCA said the cygnet died because it was small and would have ingested some of the oil while trying to clean itself.
The birds can also become hypothermic as a result of losing the waterproofing from their feathers.