African priest refused UK visa for Suffolk visit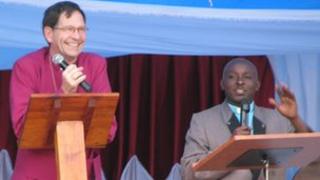 The Bishop of St Edmundsbury is to meet UK Border Agency officials to find out why a clergyman from Tanzania was not allowed to visit Suffolk.
The bishop said the Rev Absalom Vyankende's application was turned down on income grounds.
He said this made it difficult for any African guests as most were on relatively small incomes.
The agency said it reviewed the decision and stood by it but officials will meet the bishop.
Mr Vyankende, who is principal of a bible college in Kagera in Tanzania, had his application turned down by the UK Border Agency office in Nairobi, Kenya.
He was due to visit to promote links between his diocese and St Edmundsbury followings visits from other clergy from Kagera to the UK.
'Arbitrary nature'
The Right Reverend Nigel Stock, Bishop of St Edmundsbury, said: "It appeared the agency was applying an economic test and if people appeared to have little income they suspected their motives were to remain and try and find employment in this country.
"As most African clergy are on very low wages there seems little prospect of them being able to visit this country ever again.
"It is this arbitrary nature that needs some clarification."
The bishop said assurances had been made that the trip would be paid for by the diocese.
The UK Border Agency said it had reviewed the application.
In a letter to the bishop, the Home Office minister Lord Henley said: "When considering any application for entry clearance, it is the applicant's intentions and their personal circumstances, including their financial circumstances, which are paramount.
"[The agency is] unable to accept assurances or guarantees made by the sponsor [because] they are legally unenforceable, not because it doubts the integrity of those offering sponsorship.
"The visa section in Nairobi has reviewed Mr Vyankende's refusal and remains satisfied the decision was correct in accordance with immigration rules and should stand."
The bishop is to meet UK Border Agency officials on Thursday to discuss the case and the issues raised.