Eddie Maher: Partner and son face deportation from US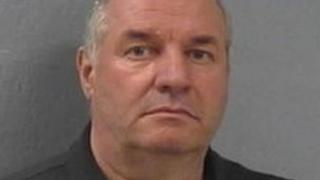 The partner and son of a former security guard, who was flown back to the UK from the United States and charged with the 1993 theft of £1m in Suffolk, could soon also be deported.
Eddie Maher, 57, originally from Essex, was flown back to the UK last week.
He has been charged with the theft of £1,172,500 from a security van in Felixstowe in January 1993.
The US has revealed it is taking action to remove his partner Debra Brett and son Lee Brett from the country.
In a statement a spokesman for US Immigration and Customs Enforcement said: "Debra Ann Brett and Lee Edward Brett are both currently in removal proceedings and on Feb 16 each was issued a Notice To Appear before a federal immigration judge."
Last week Mr Maher, who was arrested in Ozark, Missouri, appeared before magistrates in Ipswich.
He did not enter a plea and was remanded in custody. He will next appear in court on 24 July.
Mr Maher, who was working for a cable company in Ozark, was arrested on a separate matter in February and accused of immigration and firearms offences in the US.
Police said Mr Maher was "circulated as wanted" in connection with the theft of the security van from outside Lloyds Bank in Hamilton Road, Felixstowe, on 22 January 1993.
The Securicor van was found empty on Felixstowe seafront.