Former army cadet Storm Rae receives £27,500 payout from MoD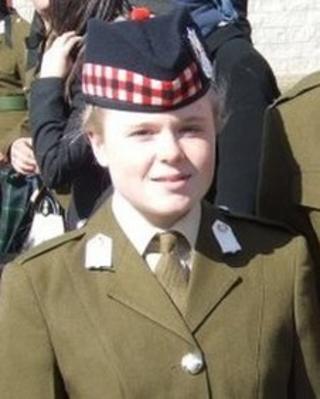 A former army cadet has received a £27,500 payout after she was left with the hearing of an 80-year-old following a firing drill, her lawyers said.
Storm Rae, 23, from Woodbridge in Suffolk, had to give up a Sandhurst scholarship after suffering ear damage during an exercise in Norway in 2008.
Her lawyers, Irwin Mitchell, said she had been given insufficient ear protection and now suffered tinnitus.
The Ministry of Defence denied liability but agreed the settlement.
Miss Rae, who now lives in London, said: "When I got into Sandhurst I was delighted, it is the peak of army training and everyone dreams of going there.
"I was just completely devastated when I found out that I had suffered permanent damage and would no longer be able to go to the academy or even enter the Army at all."
Irwin Mitchell said Miss Rae "now suffers with hearing loss comparable to that of a typical 80-year-old".