Diver rescued from Lowestoft sea feels lucky to be alive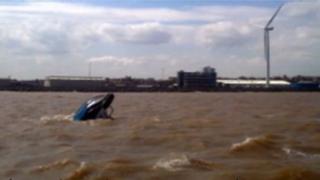 One of the men who was rescued from the sea near Lowestoft on Sunday says he feels lucky to be alive.
Ian Meers was one of 11 people to be saved by a passing lifeboat after their dive boat had started to sink.
"A few big waves had swamped us at the back and they were getting a bit heavy, and it just tipped," he said.
"Everyone was trapped in one way or another - I was in the wheelhouse with two of the other guys - it was very frightening."
Mr Meers said it was lucky that they were less than a mile off the coast in Lowestoft, Suffolk.
"It all happened so quick, we couldn't get a mayday off, so we could have been bobbing around for hours," he said.
"It wouldn't have been so bad if we were kitted up, but we only had our undersuits and things on. We would have been cold and that would have been a whole different story."
Mr Meers said the people who were trapped in the wheelhouse tried unsuccessfully to break the windows.
Eventually one of them swam underwater and led the way to safety.
They were only in the water for a few minutes before crew from a Lowestoft lifeboat, which was returning from an exercise, came to the rescue.
"They're unlucky in the fact the boat sunk but lucky that we happened to be there when it happened," said John Fox, coxswain mechanic for the RNLI.
"We saw the vessel as we were coming back in from exercise and thought it looked a bit low in the water.
"We'd only been there seconds and the thing went down."
Mr Fox said those who were trapped in the wheelhouse were "remarkably calm and brave".
"They're all divers so used to the water, but not in such circumstances. They were in there for a few minutes.
"I think it was fate that we just happened to be there when the boat did sink."