Ipswich cash machine pays double and police called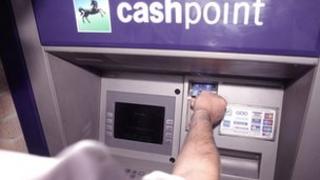 Police were called to an Ipswich bank when its cash machine started dispensing twice the amount of money requested by card holders.
It happened on Tuesday evening at Lloyds TSB on Nacton Road and a crowd gathered as word got around.
The police said they were called to keep order while the bank was informed and came to turn the machine off.
Lloyds TSB said it lasted for a "short period" and it would probably not attempt to recover the extra payouts.
A call was made to Suffolk Police at about 20:00 BST.
'Mis-dispensing cash'
A spokesperson said: "We were called because there was a large group of people at the cash machine and arguments were beginning.
"The incorrect dispensing of cash is not a police issue, but we remained on the scene until staff from the bank arrived."
No arrests were made and the bank would not say how much extra money was paid out.
A spokesperson for Lloyds TSB said: "For a very short period of time, the ATM was mis-dispensing cash while the branch was closed.
"It's quite difficult to trace all the payments, because they won't all be our customers, so it's unlikely we will take any action.
"We apologise for any inconvenience caused."