Police officers disciplined over Rosalyn Hunt murder case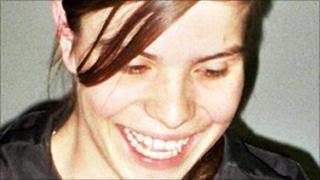 Two police officers have been given written warnings after failing to gain entry to a Suffolk flat where it later emerged a woman had been killed.
The PCs attended a property at Victoria Street, Ipswich, in August 2009 after receiving a report a woman's screams had been heard.
However, they left when they got no answer. The body of Rosalyn Hunt, 41, was found at the flat five days later.
Paul Clarke and Lorraine Thorpe were convicted of murdering Ms Hunt in 2010.
Following an investigation of the case, the Independent Police Complaints Commission (IPCC) said officers failed to satisfactorily establish whether there had been a disturbance at the flat.
'Inaccurate accounts'
It said they should have gained entry to Ms Hunt's home, by force if necessary.
The officers were criticised for failing to follow up enquiries and were told they "should have done more to ensure the welfare of Ms Hunt".
The IPCC also concluded the officers had given inaccurate accounts of their actions.
They initially claimed to have returned to the address after speaking to a man nearby, but had in fact driven off after a brief conversation with the witness.
Suffolk Police carried out a misconduct meeting earlier this month in which both officers received written warnings.
A member of staff was also investigated and given "management advice" as they had "closed the incident prematurely".
The IPCC report said it was not possible to determine whether Ms Hunt was still alive at the time the officers attended the scene.
'Accept recommendations'
The officers, it said, had reported that they saw nothing untoward at the scene. They had knocked loudly on the door, looked through the letterbox and tried to look through a window, but the curtains were closed.
At the trial of Clarke and Thorpe, Ipswich Crown Court heard how they had violently tortured Ms Hunt before killing her.
They then killed Desmond Thorpe, Thorpe's father, because they feared he might tell others about Ms Hunt's murder.
Ch Supt David Skevington said: "We have co-operated fully with the IPCC throughout its investigation and we fully accept the recommendations made in relation to the officers and staff concerned.
"Ms Hunt's family have been involved with the investigation throughout."