Residents slept through ATM ram-raid in Needham Market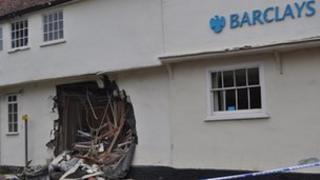 Raiders used a digger to steal a cash machine in Suffolk while nearby sleeping residents were undisturbed.
Police are hunting a white man wearing a baseball cap after the raid at Barclays Bank in Needham Market.
"At 03:30 BST, an unknown offender drove a JCB into the ATM of a bank on the High Street," police said.
One resident said: "The thud of a massive box hitting the ground I thought would make some noise, but we heard nothing."
The residents who live just yards from the bank declined to give their names.
Police said the raider left the scene in the digger, driving it along Barretts Lane, and it was later found abandoned in a field.
Barretts Lane has been closed while an investigation takes place and engineers check the structure of the bank.