Peter Purves leads campaign against village wind turbines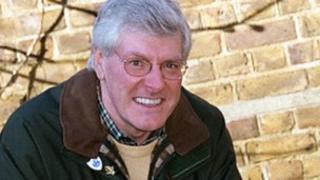 Former Blue Peter television presenter Peter Purves has begun a campaign against three wind turbines being built in a Suffolk village.
Mr Purves has written to Mid Suffolk District Council to oppose plans for the 49ft (14m) turbines on a farm near to his home in Laxfield.
Contractors Windcrop Ltd disputed Mr Purves' claim that the turbines would be a "real blight" on the landscape.
The council said a decision would be made on the turbines by 11 September.
Mr Purves said a similar application, for a single, larger turbine, was withdrawn last year after the contractors at the time visited his property.
'Relatively small'
He said on inspection they "appreciated the detrimental effect such a development would have to the visual amenity of the area and decided it was not appropriate to proceed".
Planning permission has already been granted for 40 solar panels to be installed at the address.
"How much electricity do you need to run a house?" said Mr Purves. "It's nonsense.
"The applicant himself, his house doesn't look at this - he never sees [the turbines] but we do. That's pretty unfair."
John Moore, managing director of Windcrop Ltd in Norfolk, said the turbines would be "relatively small pieces of equipment" and would provide an "economic benefit to the working farm".
"They're not visible from any distance away from the site because of the trees," he said.
"We are a small local business that has created 35 rural jobs over the last 18 months and we would not be able to continue to grow if our activity were causing the sort of impact on the rural landscape that Mr Purves is claiming."