Council to submit new plans for The Mix youth centre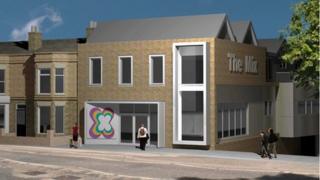 New plans for part of a £5m youth centre in Suffolk are to be submitted, after the originals were rejected.
Suffolk County Council started work on The Mix in Stowmarket last year but wants to demolish a Victorian building which is at the front of the plot.
Mid Suffolk District Council said the original plans for the replacement building would have failed to "preserve or enhance" the character of the area.
The new plans will be submitted later this month.
The Mix is aimed at 13-19 year olds and will feature a performance hall, studios, advice centre and a cafe.
When designing the facility, the county council said it would not be cost effective to refurbish the existing Victorian building and instead chose to apply for it to be demolished.
Planners said the original design for the replacement would add "no positive contribution to the local distinctiveness".
The front of The Mix is situated opposite the Regal Theatre on Ipswich Street. The bulk of the facility is being built to the rear of the Victorian building.
Suffolk County Council said it had consulted with councillors from Mid Suffolk and Stowmarket Town Council when producing the new design.
A spokesperson said: "We are hopeful that this design will fulfil the vision that all partners and local people have for The Mix as a landmark building and great local resource for Stowmarket."
John Shaw, director and chairman of The Mix Trust, backed the new design.
He said: "It was a tall order to come up with a building which fits in to the existing street, but also looks modern to attract young people."
Part of The Mix is expected to open in March next year.