Russell Brand drugs television programme helps Focus 12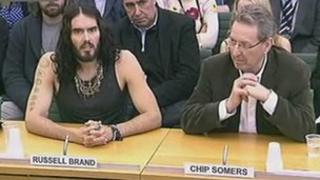 A Suffolk drugs treatment charity says it has received a donation of £106,000 as a result of a Russell Brand television documentary.
Focus 12, which is based in Bury St Edmunds, was featured in Addiction To Recovery on BBC Three on Thursday.
The charity said it was reliant donations to help meet the £500,000 a year cost of running its centre.
Local firm Chevington Finance & Leasing said it was inspired by the programme to provide the new funding.
Russell Brand credits the charity with helping him end his heroin addiction.
'Phenomenal' treatment
The business is donating a one-off £10,000, followed by £2,000 every month for four years.
Chief executive Chip Somers, who featured in the comedian's documentary, said: "We got an incredible phone call almost the moment we opened this morning.
"Raising funds for a recovery charity has never been harder, every day is a struggle to keep afloat and we are very grateful to Chevington for their intervention.
"Having that money coming in regularly over four years allows us to really balance the cash flow and plan ahead."
Clive Morris, managing director of Chevington, said: "A year ago we employed a girl who'd been through the [Focus 12 treatment] programme and we thought what they'd done with her was phenomenal.
"The Russell Brand programme just blew us away and we totally believe in Chip and his abstinence programme and we want to be part of that."
Viewers in the UK can watch Russell Brand: From Addiction to Recovery on iPlayer until 30 August.