Paralympic flame to visit Suffolk disability sports groups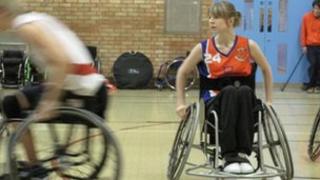 The paralympic flame will be visiting six disability groups across Suffolk on August Bank Holiday weekend.
Needham Market is one of 34 places hosting Flame Celebrations in the UK.
The flame will then be taken to sports clubs and centres in East Bergholt, Levington, Lowestoft, Bury St Edmunds, Ipswich and Exning.
The flame will also be on display at a concert at Snape Maltings by the British Paraorchestra.
Needham Market is hosting a festival of sport and entertainment on Friday.
The disability charity Optua is involved in co-ordinating the flame's visit to Suffolk.
'Positive impact'
David Finn, leisure services manager with Optua, said: "The flame is visiting these six clubs in recognition of all the hard work they have done for disability sport.
"We've seen the positive impact the Olympics have had, so we hope it's inspired people to get involved playing or helping in sport generally.
"Suffolk is blessed with a lot of high quality disability sport clubs, but a lot of people are still not aware they exist, so now's a chance to show them off."
Next Saturday the flame visits the Suffolk Spartans Powerlifting Club at East Bergholt Sports Centre, the East Anglian Sailing Trust at Levington Marina and the Water Lane Sports Centre in Lowestoft.
On the Saturday evening, it will be burning on the stage at Snape Maltings for a concert by the British Paraorchestra, which is made up of disabled musicians.
And next Sunday it visits Northgate Sports Centre in Ipswich, Exning Wheelchair Tennis Club and Bury St Edmunds Leisure Centre.
The flame will then be on display at Moyse's Hall Museum in Bury St Edmunds for the Lap of Honour exhibition.