Suffolk council refuses 'dangerous' ford warning sign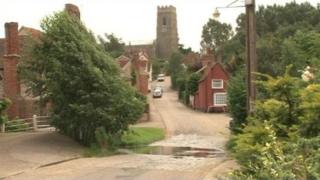 Signs warning cyclists of an approaching stream would spoil the centrepiece of a "beautiful" Suffolk village, say residents.
The threat posed by the ford in Kersey, near Hadleigh, was highlighted when riders of a cycle club were injured when crossing it.
But the council has rejected their call for a warning sign to be erected.
Giles Hollingworth, Kersey Parish Council, said: "If you can't see the splash, you won't see warning signs."
The ford across The Street is a well known landmark in Suffolk and was featured in the TV programme Lovejoy as well as an advert for the Austin Metro.
'Horrendously slippery'
But Barry Denny, chairman of the West Suffolk Wheelers and Triathlon Club, said it posed a risk to cyclists.
He said there were several instances over the summer where people had come off their bikes, with one rider suffering a broken pelvis and hip.
"Everyone realises cycling through a ford has dangers but at that particular time the ford was horrendously slippery," he said.
"I think it would be a good idea, to avoid people getting injured, that the parish council should consider putting up a sign."
There are only a handful of signs in Kersey and the parish council is adamant that a new one will not be added to warn of the ford.
Mr Hollingworth said Kersey was a "beautiful village" which had "changed little in centuries".
"Anyone who falls off has my sympathy," he said. "But if you take up a slightly dangerous sport, you have to face the consequences if something goes wrong.
"There is a bridge which is very obvious. If you're worried about the splash, get off your bike and walk across the bridge - perfectly safe."
Villager John Maltby agreed, saying: "Kersey does not want more signs".
"If they must go through the splash itself be very careful, it's a constantly running stream," he said.
"It's not just cyclists, but motorcyclists and pedestrians. They say "it won't affect me", come off and complain."
The Highways Authority said it would not add a new sign in Kersey.
A spokesman advised cyclists to use their "common sense and appreciate that the surface of fords will be slippery when wet and possibly uneven".
"Our advice to cyclists for all fords is to dismount and use the footbridge where provided," the spokesman said.