Ogogo welcomed home to Lowestoft with spelling error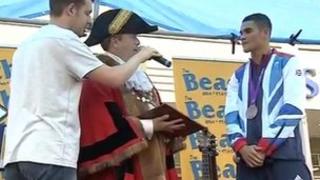 A "welcome home" plaque for Olympian Anthony Ogogo had to be taken back - after his name was misspelled.
The bronze medallist boxer attended a celebration parade in his home town of Lowestoft, Suffolk.
Mayor Nick Webb presented him with the town's coat of arms inscribed with the name - Anthony Agogo - with an "a" rather than an "o".
A council spokesman said: "He apologised to Anthony on the day and he took it in very good spirits."
The original plaque has been destroyed and a new one ordered for the athlete.
The council spokesman said the mistake was spotted "almost immediately" by both Mr Webb and Mr Ogogo as the presentation took place.
About 500 people attended the celebration parade through the Suffolk town on Tuesday.
The boxer described it as a "massive gesture" and thanked everyone for their support.
The 23-year-old won three bouts in London, including victory over world number one Ievgen Khytrov, before being beaten in the semi-finals.