Ipswich man kept dogs and cats in their own waste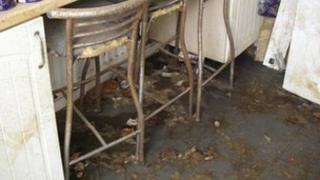 An Ipswich man has admitted keeping seven dogs and 13 cats in his house in some of the worst conditions the RSPCA had seen.
David Brown, 50, of Bonny Crescent, pleaded guilty to four charges of causing unnecessary suffering and failing to ensure animal welfare.
The RSPCA found some of the animals had matted hair and were living in rooms which were covered in their own faeces.
Brown is due to be sentenced by magistrates in Ipswich next month.
The court heard the RSPCA first went to the house in December last year after being contacted by an off-duty police officer who had gone there to buy a puppy.
Muscle wastage
Insp Marc Niepold, from the RSPCA, said: "Once we got inside I was shocked. In 20 years I'd never seen anything like it.
"Even with the doors and windows open, the smell made you choke, your eyes were stinging, you couldn't breathe and you just smelt afterwards for ages.
"We had offered to re-home as many animals as he wanted to re-home and told him to stop breeding, but he didn't take us up on the offer, which is why the animals ended up in the condition they did."
The offences were recorded between 25 May and 25 June and related to five golden retrievers, two spaniels, a variety of cats and a fish which was also found in a tank with little water left in it.
The RSPCA said the animals were being fed but not let out of the house and the dogs had muscle wastage and sores.
The court heard Brown had told the RSPCA inspector he had been living at another address in Ipswich at the time and had found it difficult to look after the animals because he did not have a car.
The RSPCA said all the animals were seized, washed and some of them have been found new homes.