Ipswich Hospital 'now meets standards' - CQC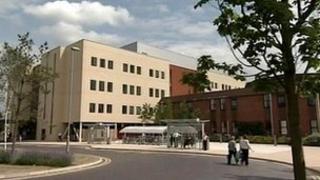 Ipswich Hospital has passed all checks by inspectors, after criticism of dignity, nutrition and mental health standards last year.
The Care Quality Commission (CQC) said the hospital was fully compliant in the areas they inspected in July.
Previous CQC reports in May and November 2011 found failings in standards in some areas.
The hospital said staff had been working towards the improvements "for many months".
The CQC report in May said the hospital had failed to meet the required standard of food and drink provision and dignity for patients.
The November report said these standards had been met, but it was failing to carry out appropriate mental health assessments with other agencies, but this had now been addressed.
'Turned the corner'
"It's about seeing the person, not just another patient," said a hospital spokeswoman.
"We've changed our leadership and worked with agencies like Age UK and Suffolk Family Carers among others to ensure we get this right and these improvements have been recognised by the CQC."
Dr Dan Poulter, Conservative MP for Mid Suffolk and North Ipswich, said: "I think it's very good news and it reflects that after a difficult period Ipswich Hospital has now very much turned the corner and is looking towards a very optimistic future.
"One of the key things has been changes in management. It was the right thing to do and patients and staff are now benefiting from this change in leadership."
Five inspectors visited 13 wards and departments on 26 July. The report found standards were also being met in the areas of nutrition and care and welfare of people who use services.
'Palpable improvements'
Cleanliness and infection control, the support given to workers and communication between staff and patients were also praised.
Cath Gorman, associate director of nursing and quality, said: "This is fantastic news for our hospital, our patients, staff and our whole community.
"We have received such amazing support for a big programme of change throughout the hospital where we have put patients first and really done things differently to get it right."
Stella Colwell, vice chair of the Ipswich Hospital Users' Group, an independent body made up of patient representatives, said: "This fully compliant report is well deserved.
"There has been a big improvement agenda under way in the past 18 months and the improvements are palpable."