Russell Brand gig in Bury St Edmunds boosts Focus 12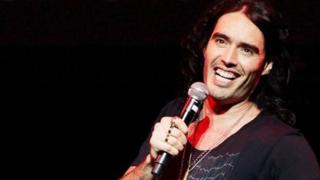 Russell Brand's decision to perform an intimate gig in Suffolk has "thrilled" a local charity.
The comedian and actor will perform at the 365 capacity Theatre Royal in Bury St Edmunds on Wednesday in aid of Focus 12, which he is a patron of.
Chief executive Chip Somers said Brand made the decision while visiting the town's rehabilitation centre, where he was treated in the past, on Monday.
"It was completely unexpected - we're absolutely thrilled," said Mr Somers.
He said the performance will raise about £7,500 for the charity.
'Spontaneous idea'
The £25 tickets sold out within two hours on Monday afternoon following the announcement of the show via the Theatre Royal's Twitter account.
A further 10 tickets, priced at £100 and offering the chance to meet Brand, went on sale on Tuesday morning.
Mr Somers said: "Russell was in town, paying a private visit to the centre, which he does from time to time, and as is his nature he spontaneously thought of the idea and tried to put it together.
"Fortunately the Theatre Royal were able to co-operate with us and it's happening on Wednesday."
The benefit gig comes just a few weeks after a television programme about Brand's battle with drug addition prompted a £106,000 donation to Focus 12.
Mr Somers said the proceeds from the Theatre Royal show will be "important" in helping others.
"It puts at least two people through the full 10-week detox and residential programme and in the process hopefully helps several families that are affected by those two people's behaviour," he said.