SLP Engineering of Lowestoft bought by Sembcorp Marine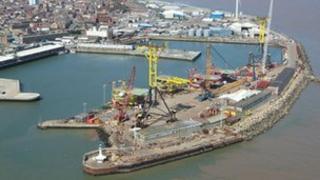 A Lowestoft firm which builds offshore energy facilities has been bought by a Singapore-based energy company.
Sembcorp Marine paid £2.5m for SLP Engineering in a deal with the firm's Dutch owner Smulders Group Holdco.
Smulders went into administration earlier this year, which meant SLP could not bid for new contracts.
SLP, which employs 124 people, said it had now started tendering for several multimillion-pound projects primarily in the North Sea.
The company, now called Sembmarine SLP Ltd, is jointly owned by Sembcorp Marine's subsidiary SMOE and eight members of the SLP management team.
Paul Thomson, managing director of Sembmarine SLP, said: "With SMOE's extensive experience in building major offshore structures, it will greatly enhance our objective of becoming the leading UK supplier of engineering, procurement and construction services to the offshore market."
'Strategic breakthrough'
Ho Nee Sin, managing director of SMOE, said: "This will allow for cross-marketing and transfer of management and engineering skills.
"This expansion into the UK market is a strategic breakthrough for SMOE."
Sembmarine SLP said it was recruiting 300 people to start work building a 140-person accommodation module for Nexen Petroleum in the North Sea off Scotland.
The Nexen contract was won in 2010, before the firm got into financial difficulties.
SLP said employment prospects for Lowestoft were dependent on it winning contracts, but the firm had employed up to 2,000 people.