Karl Dowling jailed for firearms arsenal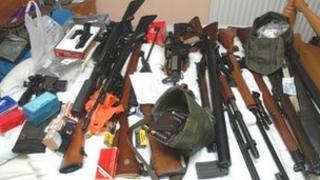 A 48-year-old man who was caught with an arsenal of weapons in his Suffolk home has been jailed for three years for firearms offences.
Karl Dowling, 48, of Bramble Close, Haverhill, admitted possessing guns and ammunition without a firearms licence.
Dowling was arrested on 10 February after police searched his home and found a grenade, automatic firearms, shotguns and rifles.
Police also found 4,000 rounds of ammunition, Ipswich Crown Court heard.
After the grenade was found, police set up a cordon and evacuated neighbouring properties while the bomb disposal squad attended and made the item safe.
Dowling admitted three offences of possessing prohibited weapons and two offences of possessing firearms without a certificate.
He also pleaded guilty to possessing ammunition and expanding bullets without a certificate and possessing firearms without authority.
Dowling pleaded not guilty to one offence of possessing a firearm without a certificate and this will remain on file.
Police said that while Dowling was a firearms licence holder, many of the weapons found were not covered under it and therefore were not being kept legally.
Suffolk Police firearms examiner Allan Cole, who attended the scene, said: "We would like to take this opportunity to urge anyone who has a firearm and does not have a licence or is concerned that one or more of their firearms is not covered by a current licence, to contact the Firearms Licensing Department and avoid something like this happening again."