Ipswich Hospital casualty admissions unexplained rise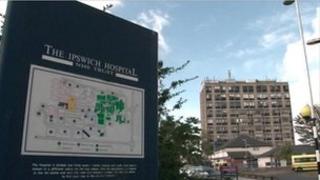 Ipswich Hospital has seen an unexplained rise in the number of people using its casualty department.
Managers said they usually saw 150-200 patients in Accident and Emergency.
Over the past year there had been a significant increase in the number of days where they saw up to 300 people, particularly on Wednesdays, they said.
NHS Suffolk and the hospital said they were working together to look at the figures and understand the reasons for the rise in demand.
The hospital said the rise was above what was expected following the transfer of the Ipswich minor injuries unit from the Riverside Clinic to the hospital.
Brian Owens, associate director of operations at Ipswich Hospital, said: "We've not just seen that planned growth, we're seeing on average about seven more emergency ambulances turning up to the hospital every day.
'Well-tested plans'
"Wednesday was one of our quieter days, but now it's one of our busiest, so something significant has changed.
"We are very confident we will be able to respond and we have some fairly well-tested plans [for winter], but clearly the greater the volume, the greater that challenge gets."
NHS Suffolk is repeating its advice for people to use GPs, NHS Direct and pharmacies instead of the hospital, except in the case of genuine emergencies.
Dr Billy McKee, from the NHS Ipswich and East Suffolk Clinical Commissioning Group (which replaces NHS Suffolk next year), said: "The information to explain the rise isn't available yet and we need to understand the profile inside those numbers.
"It takes a while to find what the underlying pattern is and we don't have it yet."