1987 Great Storm clean-up operation was 'over zealous'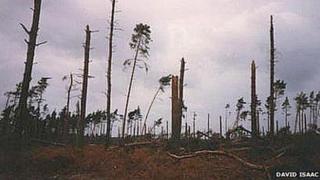 The clean up operation after the 1987 Great Storm was "over zealous" and, in parts, "a mistake", the chief executive of Suffolk Wildlife Trust has said.
Julian Roughton helped with the recovery operation after hurricane-strength winds felled more than one million trees in Suffolk 25 years ago.
Looking back, he said it went too far.
"In some cases, very sadly, so much was cleared and effectively replanted that the ancient woodland became more like a plantation," he said.
The storm, which claimed 18 lives nationwide and resulted in a clean-up operation costing more than £1bn, hit the county on 16 October 1987.
Mr Roughton said he started working for the Woodland Trust shortly after and helped with the government's campaign to clear fallen trees and plant replacements.
A lot of the tidy up work was "absolutely necessary", he said, but some was a mistake.
"We could have created a landscape of open space, heath, forest - both conifer and oak - that would have created something truly wonderful for people and wildlife," he said.
'Woodlark rise'
"People value trees very highly and when so many are lost the automatic urge is to say a fallen tree is a dead tree - when in a woodland it's a dead tree when it's cut and cleared up.
"Where trees were left to fall, in many cases those trees continued to grow - even though they were lying down.
"I think that created a fantastic habitat and something of real interest."
The Great Storm and the resulting increased open spaces also benefited rare species, Mr Roughton said.
Along the Suffolk coast, the number of woodlarks rose from 25 pairs before the storm to 250 pairs within the following 10 years.
"It just shows you that there were these rare species that needed space - and we could have done something so much more ambitious and creative," he said.
"A great storm creates gaps in the canopy which the wood responds to and actually enhances and makes the wood of more interest.
"The gaps will open up to allow flowers to come through like primroses, it will then move to bramble coming through and hazel thickening up for things like nightingales and warblers.
"So creating gaps in the canopy actually made the woodlands a better environment for many of the species that survive in ancient woods, let alone the dead wood, which is one of the key habitats."
But despite his regrets about the clean-up operation, Mr Roughton said the storm provided an important lesson.
"What is done is done, and the best thing to do is to learn from it - accepting natural events as part of what happens to systems," he said.
"Human lifespans are not particularly good at taking in very dramatic events like this - but for ancient woodlands it is very much part of their timescales."
Natural England, which now advises the government on the environment, said it would have a more relaxed view the next time a similar-sized storm occurred.
In a report written for the 20th anniversary of the storm, it said: "Where there is timber worth salvaging we have experience to draw on, as to what the priorities should be.
"However from a nature conservation and landscape point of view we can perhaps be more relaxed.
"Wildlife is often more resilient than we think - woods and landscapes can recover on their own, given time and a willingness to accept a bit of untidiness along the way."