Carole Bullett Bury St Edmunds horse death ruled accidental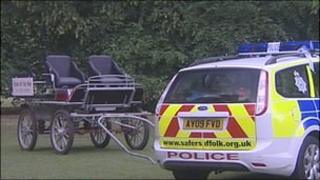 The death of a woman killed after a horse bolted into a crowd of spectators in a Suffolk town was accidental, an inquest jury has ruled.
Carole Bullett, 57, from Bury St Edmunds, died following a country fair at the town's Nowton Park in June last year.
The inquest, in Bury St Edmunds, heard the horse had been "agitated".
Coroner Dr Peter Dean said the death had highlighted a lack of "regulation" of horse and carriage rides.
After the jury returned its verdict, Dr Dean said: "I will be writing to the Department of Transport asking them to look at the law in the light of this tragedy to draw attention to prevent further similar tragedies occurring in the future.
'Highlighted risks'
"The evidence we have heard has highlighted the risks if the activity is not regulated properly."
Mrs Bullett, who was visually impaired, was hit by the horse and carriage in the late afternoon on 20 June, 2011.
She died from chest injuries at Addenbrooke's Hospital, Cambridge, the next day.
The inquest heard the Health and Safety Executive (HSE) was reviewing the case.
After the hearing, Mrs Bullett's family said they would wait for the HSE report before deciding whether to take any legal action.
Hannah Rutterford, the family's solicitor, said: "They're relieved that the inquest is over. It's been very distressing for them to hear the evidence.
"It's pleasing the coroner will be making recommendations to be considered on a national level, so hopefully something like this won't happen again.
"Particularly where people are involved with the public, it is a bit surprising that nobody has to take a test or any actual lessons, so hopefully that will change."
St Edmundsbury Borough Council, which organised the fair, said it was co-operating with the HSE inquiry and looking at "any areas in which we can improve".