World War II bomb found on Dunwich beach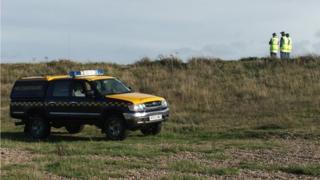 A bomb has been discovered by a member of the public on a beach along the Suffolk coast.
The device, said to be a white phosphorus mortar bomb measuring 14 inches (35.6cm) long, was spotted near Beach Road, in Dunwich.
The person who found the bomb, which was used during World War II, is said to have moved it before calling police.
The area was cordoned off before a bomb disposal crew carried out a controlled explosion at about 11:40 GMT.
Jim McMullan, from Aldeburgh Coastguard, said: "(The member of the public) unfortunately picked it up off the low water mark and moved it on to the high water mark, which is very dangerous obviously."
Mr McMullan said about "four or five" similar items are washed up along the coast each year.