Southwold Fire Station to be relocated to Reydon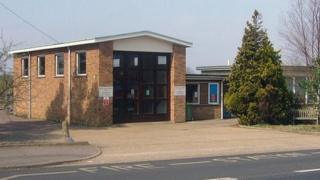 A fire station on the Suffolk coast is to be relocated to new premises under plans to reduce costs.
Suffolk County Council is looking to move Southwold's fire station to the nearby village of Reydon.
The new £800,000 station would be "more financially sustainable" than spending £358,000 on modernising the current site, the council said.
If plans are approved building work will begin early next year. The station would be operational by the summer.
Mark Sanderson, Suffolk Fire and Rescue Service's assistant chief fire officer, said: "We keep all of our fire stations under review and have identified that we need to improve the condition of Southwold.
"We believe that as an alternative to investing in the current station, it would be advantageous to build a new station in nearby Reydon.
"This will help us to realise the maximum advantage from having a newly-designed fire station."
The 50-year-old Southwold Fire Station site is valued at approximately £600,000, which would be used to offset the cost of the building project.
The remaining costs would come from Suffolk Fire and Rescue Service's capital project budget.
If the service was to continue at the Southwold site, it would cost an estimated £358,000 over 10 years to bring the building up to minimum standards, said the county council.
Adding the new station "would meet the service's current and future operational demands" and be "more financially sustainable and would save energy".
The council said the 0.8 mile (1.3km) move should not affect response times as a majority of the on-call firefighters based at Southwold live in Reydon.
Plans for the move will be considered by the county council's cabinet committee on 13 November.