Union fears physiotherapist cuts in Suffolk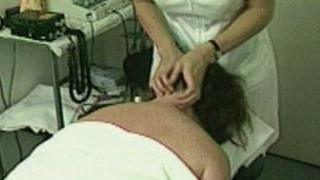 A union fears the number of physiotherapists working for a newly-privatised NHS service in Suffolk could be halved.
Last month, Serco took over Suffolk Community Healthcare, which has 52 full-time equivalent physiotherapist posts.
The Chartered Society of Physiotherapists (CSP) union said cuts would cause "substantial damage".
Serco is looking to make a net reduction of 137 posts in the service.
Serco won a £140m three-year contract to run Suffolk Community Healthcare, which includes community nursing services, speech therapy and community hospitals in Aldeburgh, Felixstowe and Newmarket.
The company said it is starting consultations about proposals to get rid of 227 posts and create 90 new ones.
Staff anxiety
Claire Sullivan, assistant director of employment relations and union services at the CSP, said: "The CSP is extremely concerned by the consultation document released by Serco, which proposes a substantial reduction in staff.
"It is our understanding the proposed measures would see physiotherapy staff numbers cut by half.
"We believe that such a reduction will cause substantial damage to physiotherapy services for the local people who so desperately need them."
Serco said it was always its intention to invest in technology and increase efficiency and part of that approach was the reduction in posts.
Paul Forden, managing director of Serco's clinical healthcare business, said: "We would not be making any compulsory redundancies among front line clinical staff and will do everything we can to minimise the number of non-clinical staff affected by the changes.
"We appreciate that our staff will be anxious about these proposed changes and will be consulting fully with them over the coming months and listening to their views and any concerns they may have.
"We will also be liaising closely with the trade unions so that we can work together to ensure the redesigned service will provide the best possible care for our patients."