Abbeygate Picturehouse cinema renovation completed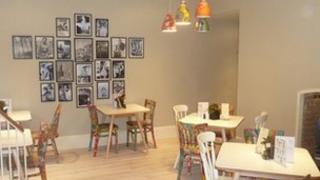 One of Suffolk's oldest cinemas has completed its £1m renovation programme and now has a restaurant, bar and facilities for disabled people.
The Abbeygate Picturehouse in Bury St Edmunds was bought by the Picturehouse chain in 2010.
The final phase of redevelopment has seen the cinema open a food and drink area in a neighbouring building on Hatter Street.
The building was first opened as a cinema, called The Central, in 1923.
The cinema has advertised itself as an art house/independent venue since the Cineworld multiplex opened in Bury St Edmunds in 2005.
The Abbeygate's general manager Patrick Church has been working there since 1966.
Smaller screens
He said: "It's a dream come true, because I've nurtured this cinema for 46 years and the premises has changed considerably in that time under a variety of owners.
"What we do is not in competition with the multiplex, but we're now going to offer a 'whole evening' event where you can relax before or after the film and talk about a movie."
When it opened in the 1920s, it had one 900-seat screen.
Part of the building was turned into a bingo hall in the 1970s and it currently has two smaller screens seating 116 and 70 customers.
The Picturehouse chain said the new 'deli-bar' represented the end of the renovation which has also seen projection equipment and the auditorium upgraded.