Ipswich County Hall: Council promises improvements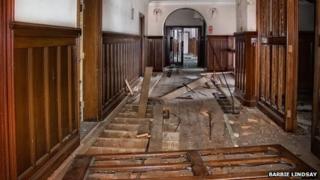 Work is to begin on a Grade II listed former jail which has been vandalised since it was sold by Suffolk County Council in 2004.
The vacant County Hall, on St Helen's Street in Ipswich, was placed on the Victorian Society's endangered buildings list last month.
Ipswich Borough Council said the owner, Rainbow Developments, had promised to start work on securing the building "straight away".
The company is yet to comment.
Councillor Carole Jones said: "We have now heard from the owners and we are hoping work will start straight away on securing this important building.
"We will not sit by - if there is no sign of that work we will do it ourselves and pass on the bill.
"We are determined to do what we can to save County Hall from further deterioration."
County Hall was built in 1836-37 and has been a jail, a law court and then a council building from 1906.
The county council sold it when it moved to its new Endeavour House headquarters, and planning permission for 28 flats on the site was subsequently granted by Ipswich Borough Council.
No planning permission has been granted for redevelopment of the County Hall building itself.
The Victorian Society said the street level windows had been boarded-up, the glass on the clock vandalised and metal theft had allowed rain water to get in.