Suffolk litter prosecutions need to be 'more uniform'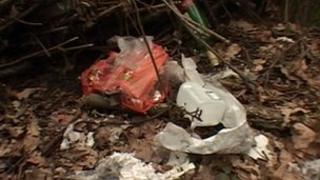 Fines for dropping litter need to be applied across Suffolk, an environmental group has said.
Figures show Waveney District Council gave out the most penalties last year with 152, while St Edmundsbury and Forest Heath did not fine anyone.
The Suffolk - Creating the Greenest County campaign said some people will only respond to a financial penalty.
St Edmundsbury and Forest Heath said their joint policy focused on education rather than prosecution.
The figures, issued after a Freedom of Information request by the BBC, are for fixed penalty notices issued in 2011-12.
Fixed penalty fines are £80 across Suffolk, reduced to £60 for prompt payment.
David Barker, chairman of Suffolk - Creating the Greenest County, said: "The only way to tackle some people's behaviour is by prosecuting or fining them.
'Anti-social crimes'
"I think that there ought to be some discussion about how we can tackle this on a more uniform basis, rather than some councils tackling it positively and others being less aggressive.
"We've also got to be encouraging people not to be lobbing this stuff in the first place - that's the real issue."
Andrew Reynolds, chief environmental health officer at Waveney, said: "The government sets out what the recourse is against litterers and it's our job to follow government guidance and pursue those who carry out anti-social crimes proportionately.
"I don't think it's hard-line - we're just making better use of the information that we receive and we've got lots of council officers trained to fill in a form with the relevant information if they see littering."
Peter Stephens, cabinet member for the environment at St Edmundsbury, said: "St Edmundsbury and Forest Heath have always sought to educate rather than prosecute.
"I think we are getting the co-operation of the community and you get much better results if you have the co-operation of everybody."
The Keep Britain Tidy campaign said fining is only part of a wider solution involving education, but its policy was for local authorities to decide their own strategies.