Snowboarder Emily Watts's family put faith in French doctors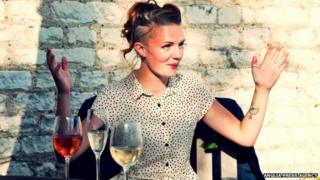 The family of a woman who is critically ill after a snowboarding accident say they trust doctors to decide whether she should live.
Emily Watts, 26, from Suffolk, crashed into a snowdrift and suffered a heart attack on the French Alps on Saturday.
Her family, who are by her bedside in Annecy, said in a statement that the outlook for 'Mimi' was "bleak".
"We have 100% faith that [the doctors] will make a decision that is right for Mimi," the family said.
"We are governed by French law in this situation and have no say in the decision to continue her life support."
'British man helped'
The family said mountain rescuers and police had helped provide a clearer picture of what happened.
"She was at the edge of the piste where the snow was compacted and safe, but caught an edge and was catapulted into a 70cm (27in) pile of powder," the statement read.
"From the middle of the piste it was impossible to see her unless you were within two metres of the accident site."
They said a British man had spotted a mark in the snow while skiing on the Grand Montets slopes and ran back to check it out.
"We're extremely grateful for that man's efforts," the family said. "When he discovered somebody was stuck he called for help."
The family said the support from friends and family had been "heartwarming and most welcome".
Ms Watts, from Lavenham, is an experienced snowboarder and is believed to have been working in France for a few weeks.