Flood sluice plan for A12 at Blythburgh to prevent road closures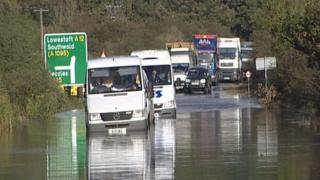 A sluice could be built on a Suffolk river to try to prevent further flooding of the A12 - the main route between Ipswich and Lowestoft.
High tides can force the closure of the route, such as in 2007, and it is hoped the sluice would stop this.
The tidal barrier would be built to the east of the road bridge which crosses the River Blyth at Blythburgh.
The work is being planned by Suffolk County Council, the Environment Agency and Natural England.
'Protect and enhance'
Councillor Guy McGregor, cabinet member for roads, said: "This is the major link between Lowestoft and Ipswich and we don't want the uncertainty of the failure of communications between these two towns.
"The Blyth estuary is one of the gems of Suffolk and we've got to be careful how we protect and enhance it, so the last thing I wanted was some sort of brutal highways scheme and that we intend to avoid.
"It's important that the various agencies work together and having discussed these issues for a number of years, we're now in a position to present our ideas at public exhibitions at Blythburgh and Southwold."
Richard Houghton, the Environment Agency's Norfolk and Suffolk operations manager, said: "The council have referred to the need to undertake a flood risk assessment and this will be the mechanism by which any impact on flood risk in the wider vicinity will be fully assessed and addressed."
The county council said that if planning permission is granted, then work on building the sluice could start at the end of summer 2013.