'Little chance' of saving Bullwood Hall Prison, says MP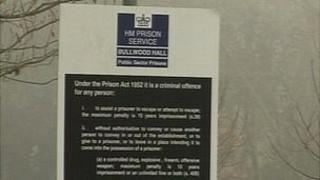 Staff at a prison in Essex facing closure have been told there is little hope of saving it.
Bullwood Hall Prison at Hockley, near Rayleigh, is one of seven jails being closed by the government.
On Saturday prison officers at the jail met their local MP who told them the decision was unlikely to be reversed.
Mr Francois, Conservative MP for Rayleigh and Wickford, said he would be pressing for a meeting with Prisons Minister Jeremy Wright.
The jail is dedicated to foreign prisoners and holds nearly 250 inmates.
'I've been frank'
It is scheduled for closure as part of a package aimed at saving £63m a year in running costs across England.
Mr Francois said his meeting with staff had been positive.
"I know that the staff of Bullwood Hall have given good service down the years," he said.
"Now I want to do everything I can to make sure they are treated as decently as possible and where they want to redeploy within the Prison Service we try to make that happen if we can."
Asked whether there was any way the jail could be saved, he said: "I have been frank with the officers.
"I don't think realistically that is going to happen, partly because of the age of Bullwood Hall and partly because there are a number of long-standing infrastructure issues at the prison."
Phillip Stanbridge, of the Prison Officers Association, said: "People are still disappointed and angry and feel let down by the government and the Ministry of Justice.
"We have had excellent reports and we've achieved everything that the government and the Ministry of Justice has asked us to do."
Other prisons due to be closed are at Canterbury, Gloucester, Kingston in Portsmouth, Shepton Mallet in Somerset, Shrewsbury and Camp Hill on the Isle of Wight.
Chelmsford and Hull prisons will be partially shut.
The BBC has learned a further five jails, which have not been named, could be closed.
Sources said an announcement was likely next January.
The MoJ plans to build a new "super-prison" with 2,000 places in London, north-west England or North Wales.