Mason Fountain raises 'more than £50,000' for other children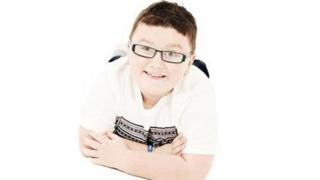 An eight-year-old boy who has a brain tumour has raised more than £50,000 to help other young people with the same condition, his mother has said.
Mason Fountain, who lives in Ipswich, launched a fundraising group as part of the Brain Tumour UK charity last March.
His mother, Shelly Fountain, 30, said the Mason's Magic group had given "treats" to more than 40 young people.
"We give up to £500 per child for anything which makes them smile," she said.
"We've given iPads, sensory toys, a trip to Disney, Alton Towers, special days out and memories."
Mason was diagnosed as having a brain tumour the size of a "large orange" in 2010.
Surgery reduced it by half last August and in December a scan revealed the tumour had remained stable.
Mrs Fountain said this was the best they could hope for.
"He's never going to get to remission or be tumour free," she said.
"Other children get there, but Mason's not going to be able to.
'Twitter issue'
"He's always going to live with his tumour and he finds that very hard."
But Mason has returned to school and is enjoying doing "normal and fun things" such as PE.
"He's doing three whole days and two mornings, he's doing really well," Mrs Fountain said.
"We never know what will happen in three months' time, if his tumour has grown at the next scan he could be back on chemo or need more major surgery."
Mason's fundraising has been helped by the interest generated by his Twitter account, @masonsmagic.
Mrs Fountain says Mason tells her what to write and that a "lot of time" is spent on the site, drumming up support and communicating with other children he has helped.
"He loves doing it," Mrs Fountain said. "When he gets a thank-you card and a picture of the children he's managed to give a treat to, it makes a lot of difference to him."
Last month they announced their delight at reaching 100,000 followers, just over a year after they signed up.
However, on Wednesday the figure fell by half in the space of 24 hours.
"I think it's an error with Twitter as famous people including Shane Ritchie said the same happened to them," Mrs Fountain said, adding that it could affect their aim to fundraise for Mason and other children.
Twitter said it could not comment on a specific account or offer a reason as to why Mason's account had seen a drastic drop in followers.