Ipswich Town calls for repeal of stadium alcohol laws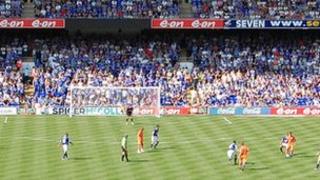 Ipswich Town's chief executive is calling on the Football Association to consider relaxing the ban on drinking alcohol in the stands at matches.
The law banning drinking within sight of the pitch was introduced in 1985 to combat hooliganism.
Simon Clegg, chief executive at Ipswich, said: "We need to look at this as society has moved on a long way.
"There are clubs with a good reputation and no track record of problems where I think it would be acceptable."
Mr Clegg said the lifting of an alcohol ban set out in the Sporting Events Act 1985 could be tested at Portman Road.
"I'm not suggesting a blanket lifting of the ban, but it could be delegated down to the clubs to work with their safety advisory group, including the local police, to make a decision on a case-by-case basis," he said.
'Nannying law'
"There is a financial consideration [for the club], but also an atmosphere consideration as we're seeing falling gates and this will all add to the enjoyment of the fans."
Phil Ham, editor of the independent TWTD.co.uk Ipswich Town website, said: "The climate in football has certainly changed and Ipswich have games that are almost entirely police-free.
"It ought to be reviewed, but there would be concern at derby games or particular clubs, without naming names.
"In general, fans see it as a bit of a silly nannying law and would welcome drinking in the stands as you can at cricket, rugby and other sports."
The FA said it had responded to Mr Clegg's letter but would not be saying any more at this stage.