Bury St Edmunds A14 crash kills man and boy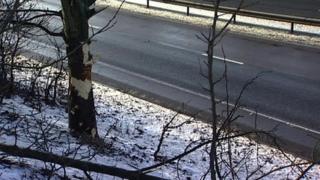 A 19-year-old man and 16-year-old boy have died following a car crash on the A14 in Suffolk.
A BMW left the road and hit a tree near Bury St Edmunds at about 20:55 GMT on Thursday.
The driver, Adam Weller from Weeting in Norfolk, died at the scene while the boy was taken to Addenbrooke's Hospital but died on Friday morning.
A man, 20, from Bury St Edmunds, who was driving another car, was arrested on suspicion of dangerous driving.
He has since been bailed. The crash happened on the eastbound carriageway.