Ofsted says Suffolk schools need council 'shake-up'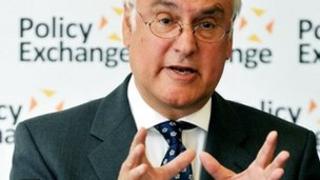 The head of education watchdog Ofsted says Suffolk's state schools should be doing better and the local education authority needed to "shake things up".
Sir Michael Wilshaw visited Ipswich to talk about standards with head teachers and the county council.
Suffolk is in the bottom 10 of the government's 2012 GCSE league table.
Describing Suffolk's results as "pretty dismal", Sir Michael said: "I'm looking to the local authority to shake things up."
The government's league table, comparing 151 local authorities, showed Suffolk had fallen from 123rd place in 2011 to 142nd place with 51% of pupils achieving five or more A-C grades in 2012.
The national average for local authorities was 59.4% with the neighbouring counties of Cambridgeshire at 57.5%, Norfolk on 55.6% and Essex on 58.9%.
'Lack of aspiration'
It followed the primary school Key Stage 2 table in which Suffolk came third from bottom, with 74% of children reaching the expected level in maths and English, when the national average was 79%.
Sir Michael said: "The statistics are pretty dismal in Suffolk with 40% of primaries and a third of secondaries judged by Ofsted not to be good.
"I want to see Suffolk improving at the same pace as some other local authorities.
"A good local authority uses its good schools to support schools that are less good.
"Given its demographics, it is not a poor county. Suffolk should be doing much better and similar counties are doing much, much better."
The county council acknowledged schools should be performing better and said its Raising the Bar programme was in place to improve standards.
It said the county's position in the GCSE table had been affected by changes in grade boundaries by the AQA exam board .
However, the independent exam board regulator Ofqual found that AQA was not out of line with other examination boards.
The Ofsted chief inspector was invited to Suffolk by Ben Gummer, the Conservative MP for Ipswich.
Mr Gummer said: "I've been working with head teachers to deal with decades-old problems with lack of aspiration and poor ambition.
"We've got an exceptional group of heads and I am positive that we will be able to get there with the determined effort that some of them are showing."