Needham Market parents' plea over autistic son's education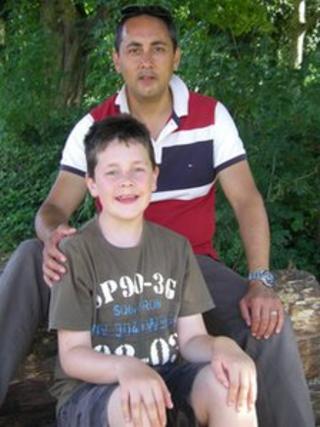 The parents of a boy with autism say they face spending more than £15,000 on legal fees in their fight to get the right education for their son.
Heather and Tony Clarke are taking Suffolk County Council to tribunal arguing the needs of their son Alex, 12, are not being met.
"Our choice was to borrow money from the family or remortgage our house," Mr Clarke said.
The council said it could not comment on individual cases.
The Clarkes, who live near Needham Market, said they had already had a two-year "fight" to get a statement of special educational need for Alex, who attends Needham Market Middle School.
They were prompted to pursue it when doctors at Great Ormond Street Hospital told them Alex could not block out background noise, so needed to be taught in a quiet environment.
But they said the statement did not reflect the doctors' observations and the subsequent level of care for Alex has been insufficient as a result.
"We're taking the statement to the tribunal, appealing against it, because the middle school, by their own admission can't provide the help Alex needs," Mrs Clarke, 43, said.
Mr Clarke, 45, says he wants his son to go to a nearby private school, which specialises in helping people "like Alex", despite the extra expense.
"[However] there is a huge cost involved in keeping Alex in mainstream schooling with the teaching assistants he needs, bringing in speech and language therapy, bringing in occupational therapy," Mr Clarke said.
The family's lawyer, Melinda Nettleton of SEN Legal, said the Clarkes' case was "all too common".
'Financially illiterate'
She said local authorities were wasting money by not adequately diagnosing pupils' needs, only to be later made to pay out compensation.
"I would describe councils as being financially illiterate," she said.
"If the diagnosis is light in detail, the provision is wrong. It's like a skeleton or pack of dominoes, it's all connected."
Ms Nettleton said Alex had been placed at the "wrong school" due to his needs, including the requirement of being taught in a quiet place, being overlooked by the statement.
Graham Newman, Conservative cabinet member for education, said about 3,000 young people in Suffolk had statements of special educational needs.
"We are talking about a very small percentage of people who have encountered real difficulty," he said.
The council will discuss its special educational needs service during a meeting of the Audit Committee, later.